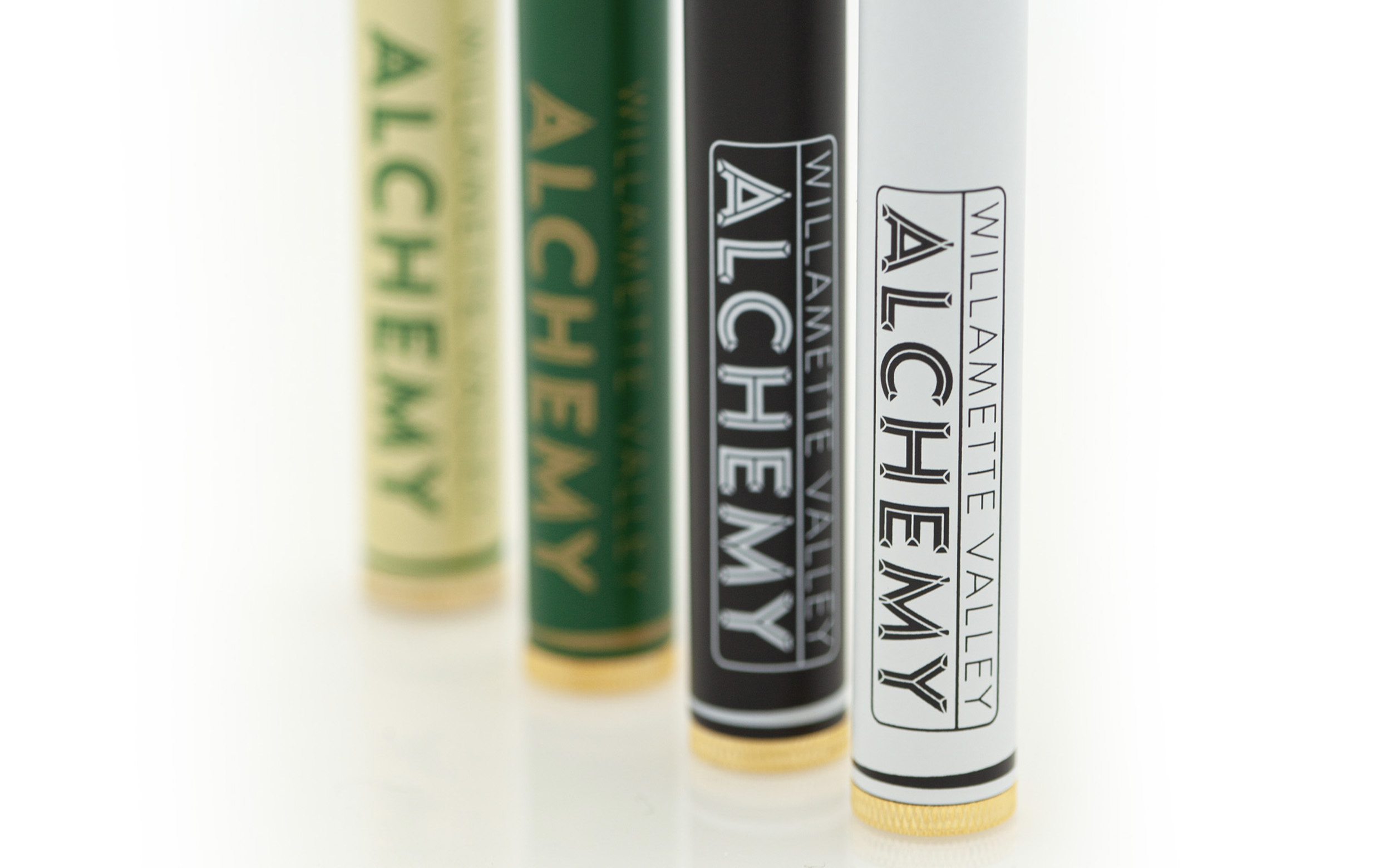 What vape device is right for you? What type of cannabis extract is inside the cartridge? How do you use a PAX vaporizer?
With all the different types of vaping devices on the market today, and each with slightly different features, it's easy to get confused before you even take a puff. But we're here to break it down for you.
WVA cartridge options
Willamette Valley Alchemy's award-winning Liquid Live Resin™ and Liquid Cured Resin is available in two safe, discreet and convenient vape cartridge formats: threaded CCELL cartridges, which are powered by 510-thread batteries, including our branded WVA devices, and PAX pods, exclusively for use with Pax Era and Era Pro devices.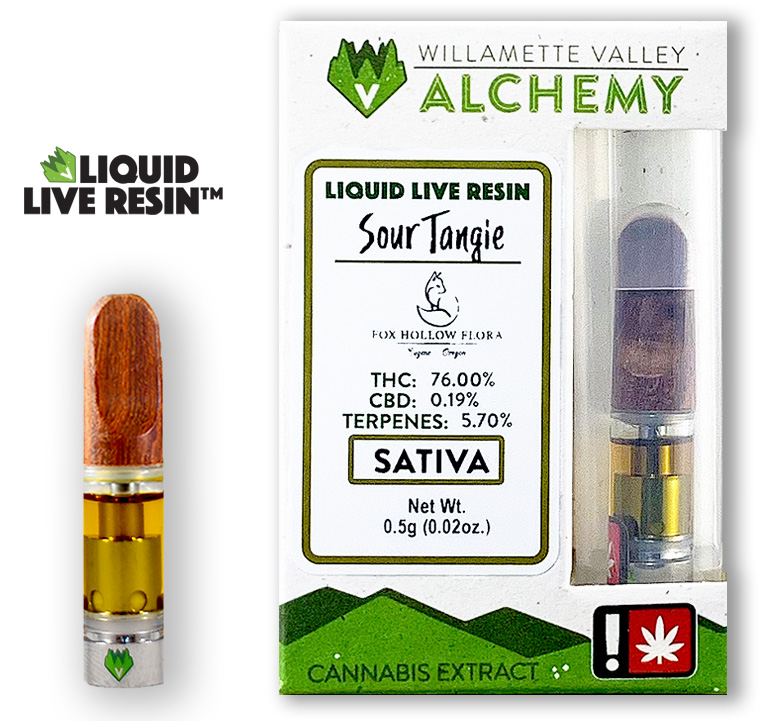 The threaded devices feature both .5g and 1g glass CCELL cartridges with a sustainable sandalwood tip and a ceramic heating element. Ceramic is inert, making it ideal for a safe and efficient vaporizing experience. Ceramic is also considered the most reliable and longest-lasting kind of heating element on the market. Our rechargeable batteries let you customize vaping temperature with a smooth-adjust dial ranging from 2.4 to 4 volts of power.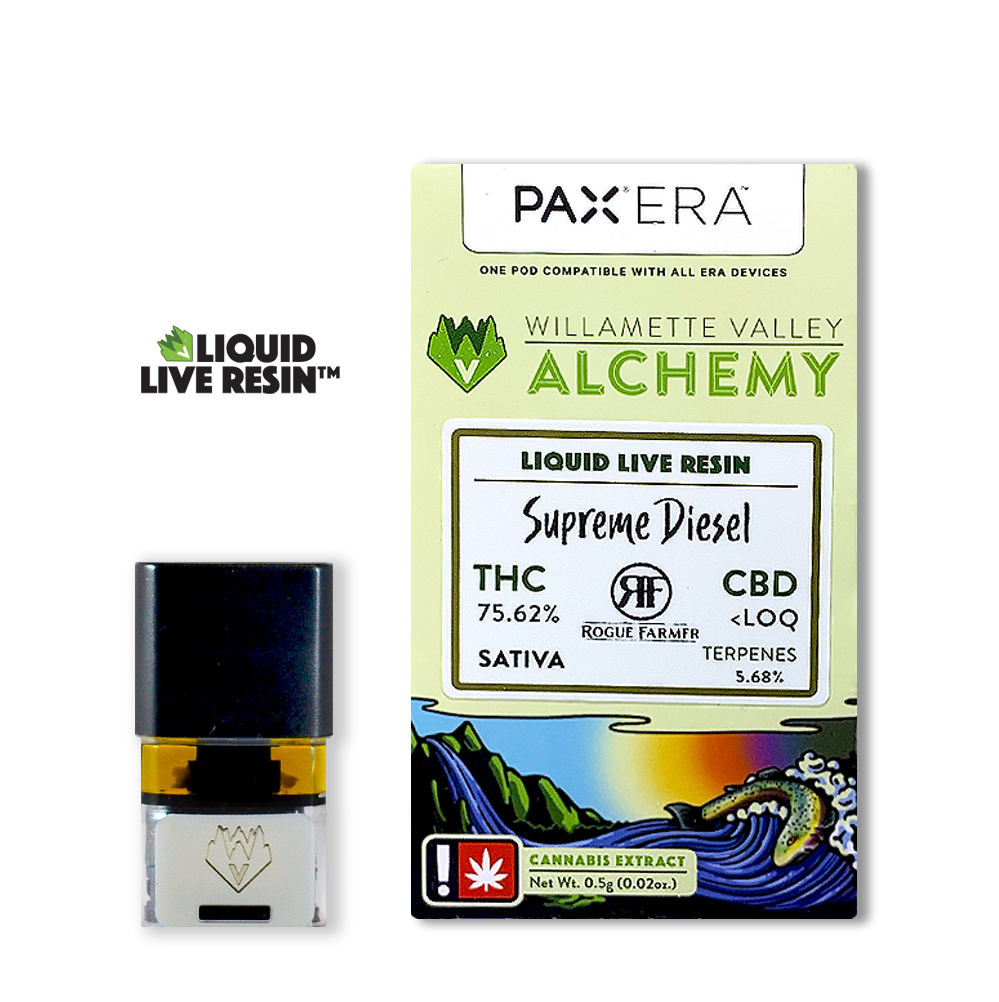 PAX pod materials include food-grade plastic, gold-plated brass, a nichrome heating element and cotton. PAX uses a silica wick to draw up cannabis extract from the tank, which can hold up to .5g extract. Temperature level can be set from 1 to 4 and is continually adjusted throughout the session by PAX's proprietary algorithm. This ensures your chosen temperature remains constant and "your last puff tastes just as good as the first."  PAX's innovative technology is designed in Silicon Valley and continues to push the boundaries of vaporization.
What's inside
Both styles of cartridge WVA fills are available with Liquid Live Resin™ or liquid cured resin.
The difference between our live and cured products is that whole-plant, fresh-frozen material is extracted for the high-terpene (and higher price) Liquid Live Resin™, and cured flower and sugar-leaf trim is extracted for the more economical, yet still very aromatic, Liquid Cured Resin.
WVA recommends that a lower temperature be used for vaping Liquid Live Resin™, so as to preserve the maximum amount of terpenes for you to enjoy. A lower temperature with either type of resin will produce the best flavor, but for more vapor, turn it up.  Liquid Cured Resin also has a higher viscosity (meaning it's thicker), so a higher temperature is more effective at vaporizing cured extract.
All our extracts are 100% pure, with no additives or fillers, and are strain-specific and "Farm-To-Pocket." This means when you pack your PAX or WVA vape device, you hold one strain of flower, from one farm, right in your pocket. All the craft experience of smoking premium flower or dabbing sauce, with the convenience of the push of a button.
Are cannabis extract cartridges safe?
When deciding how to package our extracts in pen formats, we opted for only the safest, most sustainable and best technology available. We wouldn't have it any other way, and we demand no less for our extracts to be enjoyed as fully as possible, even when on the go.
WVA only uses certified CCELL cartridges that come with Certificates of Conformity for their manufacturing process and materials. We only use CCELLs with glass tanks. PAX's manufacturing also uses high-quality, food-grade materials that come with Certificates of Conformity.
Our proprietary extraction process has allowed us to develop liquid resins that flow like water, without the need for thinning agents, emulsifiers or any other additives. The process we use is formulated specifically for the pen format.
The bottom line: We never fill our cartridges with anything other than 100% pure cannabis extract. Our cartridges are as safe as any of our products, because we use them, our friends and families use them, and you should feel safe using them, too.
Changing the temperature
Threaded devices (for CCELL cartridges) feature a manual dial at the base of the battery shaft. Turn all the way to the left for 2.4 volts and to the right for 4 volts. Going for not too hot, not too cool? There's plenty of middle ground, Goldilocks.
PAX Era can be adjusted through the PAX app (currently available only on Android) or manually by using the following process as described by PAX:
In Temp Set Mode each LED indicates a temperature selection by the number and color of petals displayed. One green LED indicates the Low default temp setting. Two yellow LEDs indicate the Med-Low default temp setting. Three orange LEDs indicate the Med-High setting. Four red LEDs indicate the High default temp setting.
To enter Temp Set Mode, first shake the device then remove the Era pod. Once the pod is removed the LED will start by displaying your current selection then the petals will slowly begin to cycle through the remaining temperature settings. Reinsert the pod when you see your desired setting indicated. Once you've selected your temperature, Era will confirm back by pulsing the selection's matching LED indication.
How do I charge my vape device and how long does the battery last?
Both PAX Era devices and threaded batteries are charged with a micro-USB cable plugged into either a USB port on your computer or a wall adapter. PAX also makes a "smarter" Era Pro device, which uses a USB-C charging cable.
Threaded device charging time is 3-4 hours and the device's indicator light (located in the button) will flash red when battery is low.
PAX Era charging time is roughly 45 minutes and will last up to 200 puffs. When the PAX device needs to be charged, its indicator light will flash red three times before the device shuts down.
As with any lithium ion battery, store and charge your vaping device out of extreme temperatures and never leave it in a vehicle.
I got a cartridge, but where can I get batteries? What styles are available?
You don't have to live in Oregon to purchase our batteries – along with other accessories, they are available to anyone* through Alchemy Supply Co.
Threaded devices and PAX devices are also sold wherever WVA cartridges are sold. Found in an assortment of colorways, either device gives you options to fit your style or mood. Keep an eye out for our PAX Collaboration events, where you can get your PAX device customized with engraving.
*must be 21 years or older to purchase
Troubleshooting
For threaded devices, we recommend referring to the directions on the battery retail box to ensure proper use. If problems persist, return your battery (with receipt) to the dispensary you bought it from. If you have any more difficulties, please email us through our web contact form.
PAX maintains a detailed FAQ section on its website for common troubleshooting.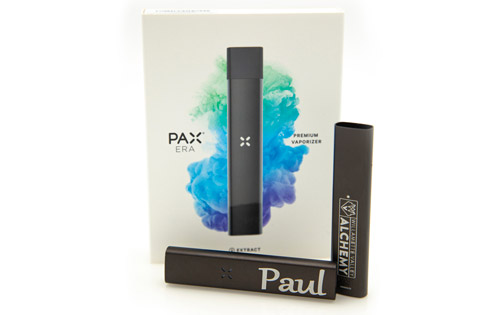 Both styles of vaping device sound great. Which one is right for me?
This depends on several factors, including your lifestyle, how discreet you want your device to be, and your budget.
PAX is geared towards tech-savvy connoisseurs. Think of it as the "iPhone" of vape devices. It's lightweight, unobtrusive, fits perfectly in your hand and is great for sporty, active users. Its simple, sleek appearance makes it difficult to tell it's a vaping device! The con is that it can only be used with PAX pods.
The threaded battery is a very versatile device because it can be used for all 510-thread cartridges from various extraction companies. Its controls are also very user-friendly. It's great for connoisseurs who prefer glass containers, as well as a lower price point.
No matter which vaping device you choose, rest assured that you will never lose interest with our frequent Farm-To-Pocket cartridge drops and our dedication to the highest-quality and best-tasting cannabis extracts you can find in a vape pen.