How To Redeem Your Shields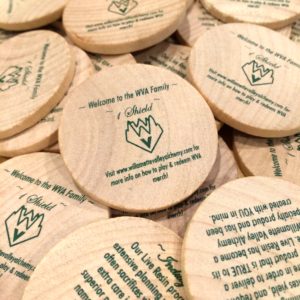 Congratulations on grabbing some of our limited quantity Live Resins! Each terpene-packed premium Live Resin box from Willamette Valley Alchemy is topped with a small token of appreciation from our team. Just 5 wooden WVA Shields is all you need to receive free swag!
1.)  Collect 5 WVA Shields.
2.) Redeem by filling out this form to find out what your swag options are and where to mail your tokens.
3.) Enjoy! Once we have received your shields by mail, we will ship out your goods.
Thank you for your support. Our mission is to put premium products in the hands of those whose love and appreciate them as much as we do.
Welcome to the WVA Family!